These problems are caused by
external pressure

to the outside of the wall...
These problems are caused by

external pressure

to the outside
of the wall
Basements are held in place at the top by the first floor, and the bottom by the basement foundations lab. When the center portion of the wall is not strong enough to hold pressure from the external soil, they can bow inward. A basement foundation has failed when the structural integrity is compromised. When this happens, the wall can develop a horizontal or vertical crack.
Check out Captain Fortress helping Charlie repair his wall!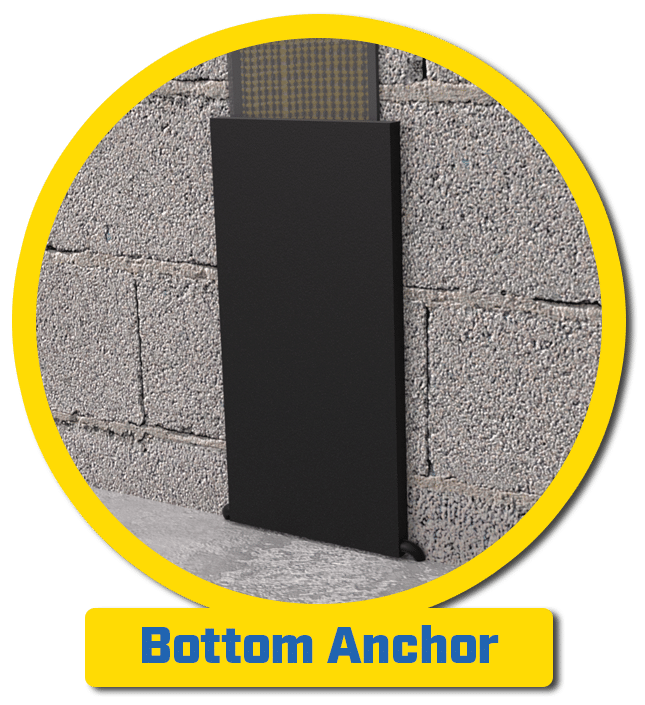 CARBON/KEVLAR STRAP-OVER 4X'S STRONGER
THAN STEEL
Patented Epoxy Rivet Technology guarantees the strongest
adherence to the wall
Factory epoxy-saturated carbon insures maximum efficiency
Patent-pending
Post-tensioned to ensure maximum strength
Anchors to Rim Joist, ensuring strongest anchor point possible
Patented
Anti Shearing keeps the wall from sliding
Anchors below slab and into foundation
Find your local qualified
InvisiBeam contractor
A trusted solution for your largest investment.
Contact Us for a Free
in Home Evaluation
Give Your Home a Composite Reinforced Foundation, Only Available With the InvisiBeam® System by Fortress, and only Installed by the best Foundation Repair Companies anywhere!
If you're noticing cracks in your foundation or basement walls, look no further! For over 20 years Fortress has been a leader in foundation repair supplies. The Fortress InvisiBeam® system is hands-down the best foundation repair method available; and we work with the best basement and foundation repair companies in the United States and Canada to make sure your installation is done properly and supported by our lifetime warranty.
The InvisiBeam® Carbon Fiber / Kevlar® system works on all types of basement and foundation walls no matter how old or new. Cracking, bowing, tipping, or shearing in block walls, concrete walls, and brick walls are all fixed with the InvisiBeam® patented and unmatched design. InvisiBeam® was also the first basement wall reinforcement system to receive ICC Certification and is the only system with a lifetime warranty.
Please take a moment to review our videos and use our contractor locator to find a foundation repair company near you. Or, feel free to contact us and we'll help connect you with a contractor.
The Best Foundation Repair Method

available: Discover long-lasting solutions with Fortress premium foundation repair supplies. Strengthen your home's foundation walls and ensure stability for years to come. Fortress is the leading innovator of carbon fiber composite solutions for structural reinforcement and repair. Block, brick, and poured concrete walls are all no problem for our patented innovations.

Trusted Basement Repair Companies - Your Solution to Structural Issues:

Searching for reliable basement repair companies? Look no further. Only the best become authorized installers of Fortress foundation repair supplies including the industry leading InvisiBeam basement wall reinforcement system. Our expert contractor partners specialize in restoring and fortifying your basement, ensuring a solid foundation for your home's future.

Life-Long Confidence:

We're so confident in our foundation repair products that we stand behind them for life! Whether your walls are cracking, bowing, tipping, or shearing -

our

foundation repair products offer an unmatched lifetime warranty. Furthermore, our technology for basement wall repair was the first to ever receive ICC certification, meaning it meets building code requirements anywhere!